National Quilting Day has expanded to Worldwide Quilting Day! From the USA to Canada, UK, Australia and beyond. Local quilt shops will celebrate everything quilty!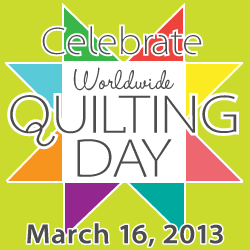 Here's a great way for you to celebrate. Every day starting February 16th leading up to a big event on March 16th, great prizes of fabrics and sewing notions will be given away - including a fabulous SCHMETZ tote bag filled with a SCHMETZ Quilting Gift Box, Needle Disposal Box and a "I Love SCHMETZ Needles" button. Yes, goodies that every quilter can use. For the online sweepstakes visit
http://www.worldwidequiltingday.com
and
https://www.facebook.com/WorldWideQuiltingDay
to find out how to win.
Quilters are invited into their local quilt shops to stitch strip quilts on March 16th in the 7 Summits Strip Quilt Challenge. Shops are challenged to quilt to the top of Mount McKinley with 152 quilts or even 218 quilts to reach Mount Everest. That's a lot of quilts to stitch in a day!
Support your local quilt shop and join the fun!. . . . And don't forget to change your needle!
Sew SCHMETZ!
Rhonda
http://www.worldwidequiltingday.com
https://www.facebook.com/WorldWideQuiltingDay